Mattress sizes can get confusing very fast. You may grasp the basics of king and queen sized mattresses, but what's a twin compared to a double? What's a full compared to a twin XL? And what the heck is a "California King," anyway?
Mattress Types Made Easy
Don't let confusing mattress dimensions get you down. For your convenience, here's a comparison of all the various mattress types, some words about each, and a quick-compare section for measurements. You can also check this handy mattress size chart for an easy reference.

Let's start at the small end, shall we?
Twin Sized Mattress – 39″ x 75″
A twin mattress is the smallest type of regular mattress out there. Twin size is perfect for an average sized child or adult sleeper. You're probably only going to fit one person on here – expect to be very cozy with your child, pet, or loved one. However, if you're living alone or just need a bed for yourself, this may be perfect for you.
Measuring in at 39″ wide and 75″ long, a twin sized mattress is the smallest you're going to find, excepting only crib mattresses and very small futons. Twin mattresses are also known as single mattresses.
Learn more about twin sized mattresses here.
Twin XL Mattress – 39″ x 80″
The twin XL sized mattress is perfect for those of us who sleep alone but happen to be taller than average. Pillow falling off the top of your twin bed? Feet sticking out below the sheets? Fear not, as twin XL mattresses provide about a half foot of extra length without sacrificing any of the width. You'll still be cozy with a partner, but at least you'll fit.
Measuring in at 39″ in width and 80″ in length, twin XL beds are usually found in college dormitories, some hotels, and the occasional small guest room. They may also be known as single XL mattresses. Putting two side by side will equate to one king sized mattress.
Learn more about twin XL mattresses here.
Full Sized Mattress – 54″ x 75″
The full size mattress is a good in-between stage, bridging the gap between twins and queens. They were the norm half a century ago for couples, but nowadays they're used more and more for single sleepers who just want a little extra space. If two people choose to fit on this bed, they get only 27″ each, so it will still be a cozy fit. This bed only upgrades the width from the twin, and not the length, so it's not as long as the twin XL, either.
Measuring in at 54″ wide and 75″ long, full size mattresses are being bought more and more by parents for their teenagers, or for multi-purpose guest rooms. Full mattresses are also known as double mattresses or standard mattresses – so now you know what people mean if they talk about a "double bed" or "standard size bed."
Learn more about full sized mattresses here.
Queen Sized Mattress – 60″ x 80″
The queen mattress is the most popular mattress size sold today. Queen mattresses provide a mature and spacious feel for two people – even though each person gets 9″ less, each, than if they were both sleeping alone on twin beds. These are great for your standard master bedroom or for those single folk who toss and turn and sprawl out every night. Plus, the length of the twin XL is back, meaning that even tall people can get a good night's support on queens.
Measuring in at 60″ in width and 80″ in length, these are great for two people, but can get cozy with a child or pet in the middle.
Learn more about queen sized mattresses here.
King Sized Mattress – 76″ x 80″
The king mattress is the standard for large and spacious beds. It's basically two XL twin mattresses combined, give or take a couple inches, so it provides the maximum amount of personal space for a pair of sleepers. It also comfortably fits children or pets in the middle, too, making this a great master bedroom piece for a family.
Measuring in at 76″ in width and 80″ in length, this is specifically known as the "Eastern King Mattress" or the "East King Size Bed," though usually if someone just says "king sized mattress" they're talking about this. A bed this big can be bulky and take up more space than you think, so make sure you measure first!
Learn more about king sized mattresses here.
California King Sized Mattress – 72″ x 84″
The California king mattress is an interesting variant on the standard (or "Eastern," since California is of course to the west) king size bed. A Cali King is the only regular mattress to stretch out to 84 inches, making it the longest mattress, but it's also a mattress that comes with a trade-off. That extra four inches of length will cost you four inches of width to make up for it. If you're just too tall even for a regular king, though, it may be worth it!
Measuring in at 72″ wide and 84″ long, California king size mattresses will provide you with plenty of room, and take up plenty of space in your bedroom. But for exceptionally tall couples, there's nothing better.
Learn more about California king sized mattresses here.
Other Mattress Types
Are the standard six not enough for you? Don't forget about futon mattresses. There are naturally also specific types of baby mattresses and toddler mattresses, too.
You may have also heard of other expanded sizes. While not common enough to include above, the measurements for these are included on the table below. These include the full XL mattress, the Olympic queen mattress, the California queen mattress, and the grand king mattress. These beds are simply further variations on the above, so you can probably guess what most of them are like, but if you need the exact measurements, keep scrolling.
For more custom personalized needs, various companies offer solutions for individually sized specialty mattresses, antique mattresses, or foreign mattresses. It's safe to say that if you have the need, you'll be able to find a mattress in the right size, or even in custom shapes. However, these may cost quite a bit extra, so have your wallet at the ready.
Mattress Measurement Comparisons
Want to see how mattresses stack up against each other in terms of area? Use this handy table.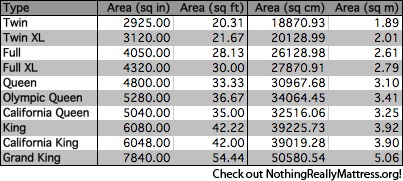 And Now You Know
Mattress measurements aren't complicated, but getting the names and dimensions straight can get confusing if you don't know this stuff for certain. With this guide, you'll have all you need for the standard types of mattresses. Remember to always measure your rooms, hallways, and doorways to make sure your bed will fit!
Thanks for reading this on NothingReallyMattress.org.